Cordwheel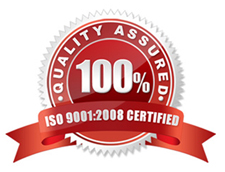 Product details
Brand: Ruslyn Holdings
PART NUMBER AUS004754-61
NATO STOCK NUMBER (NSN) 8130/661533558
NCAGE CODE Z04V9
The Cordwheel® NSN 8130/661533558 is a heavy duty, lightweight and ergonomic hand held cord reel in use by Defence. The Cordwheel is used within four complete equipment schedules across Army, Navy and Air Force as a cable reel, rope reel, hose reel, tape reel and wire reel. It is used for deployment, retrieval and storage of many coil-able products. The Cordwheel is also in use as an Emergency Services cord reel, Homeland Security cord reel and Industry as a cable reel, rope reel, hose reel, tape reel and wire reel.
Essential in the re deployment by hand held cord reel of WD-1/TT, WD-1A/TT, WF-16/U, WF-8/G land communication cables
Delicate hand held cord reel handling of optical fibre and data cable used in BTN, SATCOM and ADSL
OH&S deployment as a detonator cord reel, firing cable cord reel, BA hose cord reel, power supply cable cord reel, extension cord reel, earth leakage cable cord reel, barrier tape cord reel, NDT tape cord reel, rope cord reel, hose cord reel and wire cord reel.
Specifications
Cordwheel - Features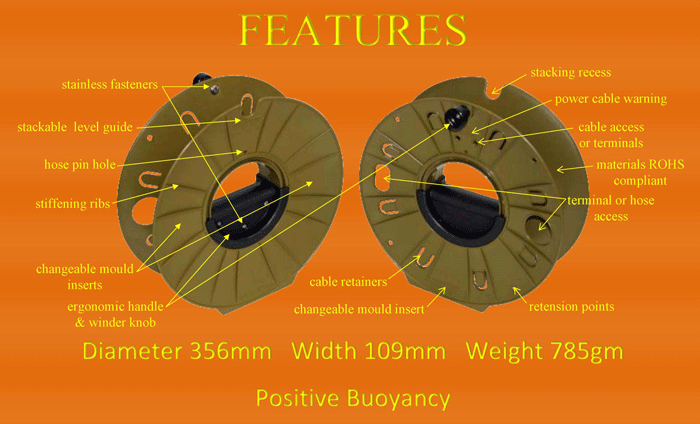 Construction
Reel Spool:
Polypropylene
Impact resistant
UV stabilised
Chemical resistant
Fire retardant
Recyclable
RoHS Compliant
Reel Centre Handle and Knob:
ABS
Impact resistant
UV stabilised
Recyclable
RoHS Compliant
Intellectual Property
Registered Trade Mark 1020770
Design Registration 302435
New Zealand Trade Mark 748463
USA Trade Mark 77009355
USA Design Registration 29/277,562
CCR registered (USA)
NECO vendor registered (USA)
FedTeDS vendor registered (USA)
GeBIZ Trading Partner (Singapore)
Reel Size
Reel diameter 356 millimetres
Reel width 109 millimetres
Reel Weight
Empty reel 785 grams (1.73 lb)
Packed carton (five reels) 5 kg (11 lb)
Some Reel Identified Applications
Cable Management of Communication and Data cables including Don 10 cable, WD-1/TT cable, WD-1A/TT cable, WF-16/U cable, WF-8/G cable, Cat 5 cable, Cat 6 cable, Cat 7 cable, Optical Fibre cable.
Cable Management of Explosive Ordnance Disposal (EOD) cables including Firing cable, Black and Tan, AWG number 18 and Lead in line. Detonator cord, Life line.
Cable Management of Audio/Visual cables including Belden 1304A, Belden 1305A, Belden 8412, Belden 1192A, Roadworx RW200120, Roadworx RW20SQ24, Belden 9259, Roadworx RW400122, Belden 1505F, Belden 1694F, Belden 1904A, Belden 1908A.
Cable Management of Power supply cables, Compressed air hose, BA hose, Fire hose, Rope, Barrier tape, NDT tape, Chain and Wire, Sub Station safety marking rope holders, test cables and safety ropes.
Stacking & Capacities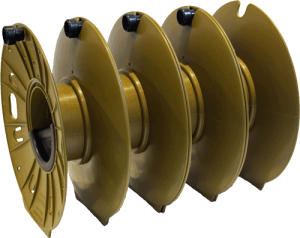 The Cordwheel has a unique design which allows reels to be stacked together for cable management and transport in boxes and racking for storage. When stacking reels, do not fill spool above winder knob cut out (h).
Signals cable WD-1/TT (Don 10): 350m (1148ft)
Cat cable: 175m (574ft)
Power cable: 30m (98ft)
Rope 10mm (3/8″): 50m (164ft)
Firing cable: 250m (820ft)
Detonator cord: 175m (574ft)
Shock tube: 400m (1312ft)
Air hose: 20m (65ft)
Fire hose (19 & 25mm): 30m (98ft)
Optical fibre cable: As Required
Audio / Visual cable: As Required
Barrier tape, NDT tape: As Required
Wire and chain: As Required