bio-control Pro XD BCD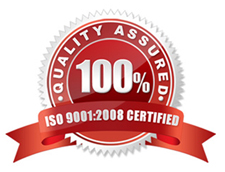 Product details
Brand: Apollo
Beautifully designed and engineered BCD. The harness system fits like a travel pack and transfers the weight to the hips.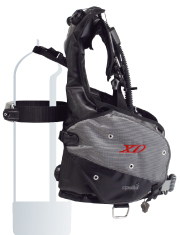 Rugged 840 denier nylon.
Rear inflation system using the latest in polyurethane heat sealable materials.
Secure Quick Release Weight System means weight pockets insert easily, are held firmly (no accidental loss), and can be released with a single-handed action.
2 x non-dumpable weight pockets on back for precision trim and buoyancy control.
2 x large, adjustable zipped pockets.
2 x shoulder dumps and 1 x back dump.
Self-adjusting cummerbund.
Extra shoulder, back, neck and cummerbund padding.
4 x D-rings.
Adjustable / Removable chest strap.
Includes patented BIO Quick Adjust tank band assembly.
One colour: Black Body, with Silver trim and logos.
SQR - Secure Quick Release.
Weight Retention System.
X-SMALL - 9.5kg lift
SMALL - 11kg lift
MEDIUM - 12kg lift
LARGE - 13kg lift
X-LARGE - 16kg lift

Specifications
Direct Harness
The Bio Control XD shoulder belt is directly connected to the back pack to bring the cylinder closer to your back. This makes the scuba cylinder extremely stable and far more comfortable when walking around on dry land
Flotage Harness

The depth compensating adjustable cummerbund with stretch panels and adjustable Velcro tabs ensure perfect fit regardless of wet suit or dry suit thickness
Features:
Bio Tank Lock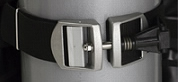 Secure your cylinder in seconds with almost no effort. Conventional tank strap designs require strength to secure. When the tank strap band gets wet the belt expands and the holding force diminishes. The Bio Tank Lock has 10 times more (100KG) tightening torque than conventional tank strap systems. The Bio Tank Lock tightening screw makes installation and removal a breeze. The heavy duty spring automatically adjusts as the webbing loosens and contracts keeping your tank in place.
Fits most BCD'S
Body Material: Die cast aluminum
Adjusting Knob Material: Acetal
Adjusting Shaft Material SUS304
Belt Length: 900 X 50mm
Weight: 330g
Quick Release Weight Pocket Pack

Weight pockets are easily released with one hand.
XS- 3.6kg each side
S to XL- 4.5kg each side
Slim Backpack
The slim line backpack is lightweight and made of strong durable resin
Trim Back Pocket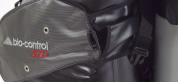 The Bio Control XD BCD has 2 x non-dumpable weight pockets on the back to ensure perfect weight distribution and precision buoyancy
Each non dumpable weight pocket can take up to 1kg (2.2lbs)
Safety Valve
A rear lower safety valve is fitted to the Bio Control XD. The activation cord has been placed at the front of the diver to make operation easy
Large Capacity Pockets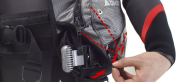 The Bio Control XD has 2 large gusset pockets for equipment storage
Cummerbund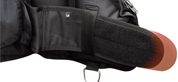 Adjustable cummerbund with stretch panels and adjustable Velcro tabs ensure perfect fit regardless of wet suit or dry suit thickness
Chest Belt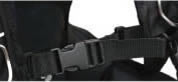 The chest belt is easy to adjust and ensures a snug fit and helps prevent shoulder straps from sliding off.
Spare parts